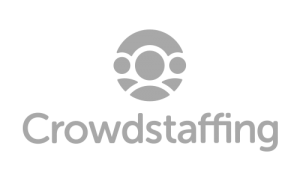 We have been working with Crowdstaffing since 2015, and are considered to be an integral part of their marketing and application design team. Over the years we have designed countless user interfaces, shaped user experience, and gone through numerous iterations of their web application.
In 2016 we had the opportunity to travel to their headquarters in San Jose, California to produce a few short videos and photograph their entire team.
In 2018, we rebranding their identity; Designed new stationery, numerous white papers, posters, social media ads, and a brand new website completely built on Hubspot so that they can properly track their audience. Alongside their marketing website, we also reskinned their web app to match the new color scheme and visual treatment.
We continue to help build Crowdstaffing alongside their amazing devoted team.