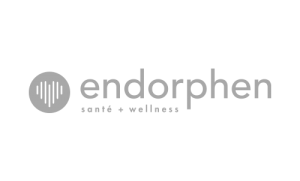 We just completed fresh new branding and a new website for one of our long lasting clients, Linda Sproull. She has relaunched her health and wellness brand as "Endorphen – Santé + Wellness". We also captured her and some of her Endorphen Addicts in action at the ALDO Group headquarters.
Endorphen's philosophy is rooted in making healthy lifestyle choices which encompass nutrition and exercise as well as the importance of taking time for long-term health and wellness. It is commonly accepted that lifestyle is key to one's overall health – not just diet, not just exercise. Moreover, the benefits of a healthy lifestyle are not only physical, they have a halo-effect on one's overall state of well-being.
Endorphen encourages and motivates all individuals who are interested in achieving a healthy harmony between work and health. Be empowered, be energized, and push your limits!